Why buy back carts?
In 2021, Toter launched Project25, our commitment to reduce virgin resin usage across our operation by 25%. Key to achieving this target is the development of more sustainable products that the use recycled material. To help close the loop in our manufacturing process, Toter has created a Cart Buy-Back Program.
With this program, Toter will offer a credit for recycling eligible used carts (see below for further details). That recycled material may be used in the manufacture of new carts, including the industry's only 100% recycled cart body – the Toter EVR-Green cart.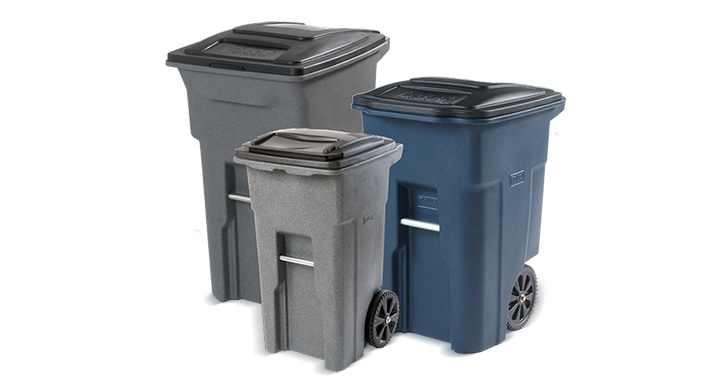 Cart Buy Back Program
Program Eligibility Details:
To be eligible for the cart buy-back program, customers must verify the carts meet all of these conditions:
Used carts must be rotationally molded from any manufacturer
Carts must be in clean condition without any debris
Carts must be disassembled before transportation. Wheels, axles, and stop/retention bars must be removed (only the bottom cart of the stack may include wheels for easier loading and transportation)*
Minimum weight requirement of 10,000 lbs. total (disassembled) to initiate a pickup
Carts must be loaded onto carrier by customer (not the recycler or the carrier)
Located in the continental United States
 
Credit for Eligible Used Carts
Toter will offer a flat rate credit per pound on usable material toward customer's next order. The cost of transportation, processing and Toter validation of cart eligibility/conditions (above) is factored into the credit the customer receives. Credit to customers for eligible used carts, is based on actual recyclable weight* verified by the recycler, not gross weight. Any discrepancy in actual recyclable weight must be resolved between customer and recycler. This program is currently available to customers located in the continental U.S.  Program availability outside of the continental U.S. is subject to availability of participating recyclers.  Please contact your Toter Regional Sales Manager for details.
 
Recycling Services for Injection Molded Carts
Although Toter cannot currently use recycled resin from injection molded carts, Toter understands that customers need help with the removal and environmentally responsible recycling of used injection molded carts from their yards.  Toter may be able to connect our customers with our network of recyclers to help with the removal and recycling of these carts.  Please contact your Toter Regional Sales Manager for details.
 
*Container bottoms are not usable due to contamination with items such as concrete and asphalt, and are not included in the actual recyclable weight. Toter reserves the right to modify the terms and conditions of the Cart Buy-Back Program from time to time without advance notice.